I have an invention on quirky.com and I need votes! Please visit the link:
http://www.quirky.com/ideations/150922?sc=true
Sign up and then vote for my Electronic Wind Chimes invention! How much fun would it be to have a wind chime that can make any downloaded sound? From church bells to farting, these wind chimes will provide hours of fun and relaxation!
Here's the quick drawing I did: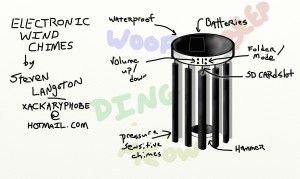 http://www.electronicwindchimes.com